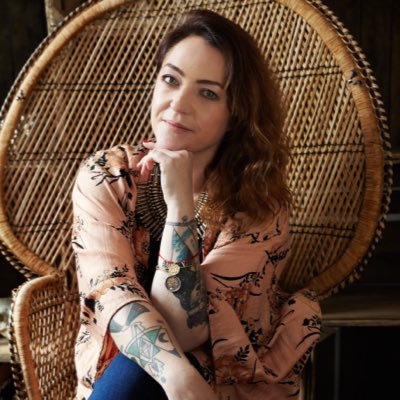 What are your earliest musical memories?
Grease, Grease 2, and Dirty Dancing. From the age of nine, I grew up at a boarding school in rural Scotland. Every weekend night, after curfew, we would drag our duvets downstairs and into the common room where we'd watch one of the above movies. I use the word 'watch' loosely, as our kind of watching mostly consisted of leaping from sofa to sofa and using hairbrushes as microphones all the while testing our house parent's patience by singing at the top of our lungs. On Sunday nights, hoarse and exhausted from the previous two nights of musical fun, we'd crowd round a stereo and record the top twenty off the radio on a cassette. Mix tapes forever!
Who or what were your musical influences growing up and why?
Two artists that I love and have listened to from late teens to current day are Joni Mitchell and Karen Carpenter. It's the beauty, but also the sadness, the melancholy, in both of their voices. Like a sort of haunting, but a welcome one. The same goes for Enya, who my Dad often listened to in the car. Whenever I listen to her now, I'm swallowed by memories and a sense of pride that I grew up where I did, that I have Celtic roots and an appreciation for the simple things in life.
Does music influence your writing?
Absolutely, yes. It's another form of story-telling and, like reading, listening to music can, and often does, bring me to tears. It knocks on doors deep inside me that I don't even know exist until they're opened. Having unrestricted access to music has, without doubt, helped shape me into the writer I am today.
Do you listen to music while writing, editing, etc.?
It depends what stage I'm at. If I'm research reading then I often have the radio on with actual human voices who I love to have bobbing along with me on the often-lonely seas of a writer. When I'm deep in the creating, the bringing-to-life stage of writing, then sometimes I listen to music but it has to mirror, or enhance, the emotional landscape I'm mining. And when I'm editing, I need complete silence because I have to read every line out loud. Over and over again …
Is there one particular novel or piece of writing you wrote that was directly influenced by a piece of music?
Yes. My debut novel, Good Me Bad Me. The story is narrated by Milly, a fifteen-year-old girl whose mother is a serial killer. She's an incredibly intense character who held me captive during the year it took me to write, and edit, the book. I'd been listening to an Australian artist called Sia for a number of years prior to writing GMBM, and I must have listened to the acoustic version of one of her songs, I'm in Here, a handful of times but as Milly began forming in my mind, the lyrics – I'm in here, a prisoner of history/Can anybody see me/Can anybody help/I need you to hold all of the sadness inside me I cannot – started calling to me in a different way. To me, it perfectly described how it felt to be Milly and I developed a ritual of listening to the song before I sat down to write, and again once I'd finished. Almost like a controlled in and out meaning I could fully inhabit Milly's often very disturbed mind but leave the space feeling safe.
What music are you listening to at the moment?
Right now, I'm loving falling down holes on Spotify. I've been choosing playlists with dramatic names like Dark and Stormy and seeing where it takes me. I'm after music that's going to help me fully connect to a new character, a new voice that I've been hearing – that of a twenty-five-year old man with a very troubled past who does a great job at keeping it all together in public, but at home unleashes his dark side. I like to deep dive into the mind and the right kind of music is like having a scuba tank on my back.
Musically, what's your guilty pleasure (or is there such a thing)?
DISNEY!! And musical theatre. If I'm stuck in a writing rut, or maybe just feeling a little blue, I'll hit play on something uber cheerful like Under the Sea from Little Mermaid, or if I need to release some tension, I'll choose something emotionally rousing like With One Look by Glenn Close. There are magic hands holding magic keys hidden in this kind of music that unlock me, revive me and make me feel like anything is possible.
Jazz hands to finish!
Ali Land is the author of the international bestseller GOOD ME, BAD ME.