Guest Blogs
Music & Me: Wendy Erskine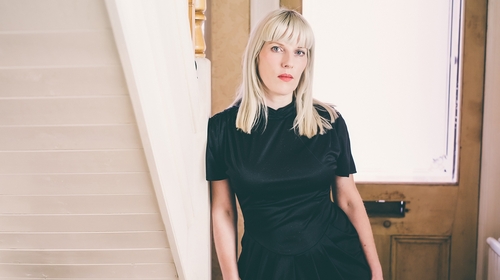 What are your earliest musical memories?
Although my mum was not a music lover, she did feel passionate about 'A Whiter Shade of Pale' by Procol Harum.  If it came on the radio I had to be quiet so that she could go into a rapture.  In school, we had a radio programme that we listened to each week called Twigwidge.  It was a kind of participative folk experience where everyone had to play percussive instruments along to the songs on the radio.  Twigwidge was a spirit that lived in a chestnut tree.  As a kid I liked listening to the albums of BBC sound effects and would have borrowed these from the library.  I still like that kind of thing.  'One of the Boys' by Mott the Hoople is definitely enhanced by the sound of the telephone ringing at the beginning.
Who or what were your musical influences growing up and why?
I used to go to a hairdressers as a teenager that played music that was pretty interesting: Divine, Annie Anxiety Bandez, Grace Jones.  Around the same time I used to listen to a programme on the radio every Monday night called Battle of the Bands.  It would pit, say, Fairport Convention against Rush, and play records from both while people phoned in to give their opinion.  Ludicrous really, but fun listen to.  As a 13 year old Squeeze were my favourite group.  So this is what adult life is going to be like, I thought.  Divorce, drinking black coffee and people being alcoholics.  Their first album was produced by John Cale.  You wouldn't necessarily put them together.
Does music influence your writing?
Yes.  A number of my stories are actually about music.  'Bryght Gehenna' that appeared in Winter Papers is about a supposed satanic heavy metal group and a teenage boy who embraces their Dionysian, destructive spirit.  'Gil Courtney' in my collection Sweet Home is based on a type of Syd Barrett style musician, and my forthcoming story in the Faber anthology is about someone picking their music for a kind of Desert Island Discs programme.
Some people might remember the shapes of leaves or branches, or the way the light plays on someone's face.  I'll probably remember the music that was blasting out of a passing car.  So that's the kind of thing I end up writing about,
Do you listen to music while writing, editing, etc.?
I can write when people around me are arguing, or making themselves something to eat, or watching videos on YouTube.  But I  don't like writing when music is playing.  Whether it's the lyrics, or the sentiment, or the beat, I end up being drawn into it too much.  I don't know what that says, that music has more effect than the people around me?  Who knows.  If I'm editing something,  it's different.  I would listen to The Dirty Three, Can, Endless Boogie or The Necks.
Is there one particular novel or piece of writing you wrote that was directly influenced by a piece of music?
In the story 'Inakeen' there is a character called Black Sail who was inspired by the song 'Black Sail' by Chastity Belt.  In the story 'Observation' there a character called Kim Cassells who is partially based on the song 'Love Reputation' by Denise La Salle.  'I'm a hijacker, safe-cracker' she sings.  Kim Cassells is similarly bad-ass.  However, Kim Cassells would not listen to a Northern soul song such as 'Love Reputation'  and I doubt that Black Sail would listen to Chastity Belt.
What music are you listening to at the moment?
I hear the ringtone of my phone quite frequently.  It's Angie, by The Rolling Stones, specifically the lines about all the closely held dreams going up in smoke.  Every time my phone rings it's a harbinger of doom.  But I like it too, because it's Nicky Hopkins on piano.
I listen to No Other by Gene Clark a lot.  My favourite song at present is Abba by The Paragons.  It's a song I've heard for years but for some reason it is just sounding brilliant to me at the moment.
Musically, what's your guilty pleasure (or is there such a thing)?
I don't really have guilty pleasures.  Who are these arbiters of cool, huh?  My enjoyment of music anyway is often pretty contextual, situational.  Like, I can go into my local Co-op and Kenny Rogers and Sheena Easton 'We've Got Tonight' is playing and everything seems so transient: the bunches of flowers, the newspapers, the people.  The song ends up being a kind of carpe diem masterpiece.  One time I was in a car and a person was telling me about the horrible killing of an animal and all the time on the radio Drops of Jupiter by Train was playing.  Usually it wouldn't be my thing, a big orchestral rock song about a guy's girlfriend coming back from a gap year, but in the context of what I was hearing the song sounded so utterly transcendent.
Wendy's short story collection 'Sweet Home' is on sale now 
---
Follow Derek online, on Twitter and on Facebook.
Derek Flynn runs Writing.ie's SongBook blog, and is an Irish writer and musician. He has a Masters in Creative Writing from Trinity College, Dublin. He's been published in a number of publications, including The Irish Times, and his fiction was featured in 'Surge', an anthology of new Irish writing published by O' Brien Press with the aim of showcasing "the very best of the next generation of Irish authors". Online he can be found at his writing/music blog – 'Rant, with Occasional Music' – and on Twitter as @derekf03