News for Readers
A Season to Remember by Sheila O'Flanagan & Christmas Magic by Cathy Kelly
Bookshelves and bookshops seem to change in the run up to Christmas – possibly one of the busiest times of year for booksellers. Sports books, biographies, literary and popular favourites and last but not least short story collections fill those all-important eye-level shelves and weigh down the tables perched inside the doors of some of our favourite bookshops.
Two well-known popular fiction favourites – Sheila O'Flanagan and Cathy Kelly – have brought out timely collections for the festive season. In tune with the fact that short stories are sometimes a preferred option at this busy time of year, both authors have written with this in mind.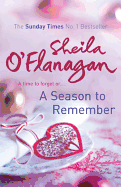 Sheila O'Flanagan's Sugar Loaf Lodge in 'A Season To Remember' reminds me a little of the huge part New York played in Sex And The City. Setting each of her stories in this County Wicklow country house, the experienced author introduces numerous characters – each dealing with individual nostalgia and heartache as they leave their homes to spend Christmas in such a beautiful setting with spicy mulled wine and blazing open fires.
Sipping wine and waiting for her lover to arrive, Holly's heart aches as time ticks by and she's left sitting alone in the foyer surrounded by loving couples. Andrew and Bridget are there to forget a recent disappointment and Jim and Laura are celebrating their daughter's first Christmas. But despite the elaborate trimmings and the ridiculous expectations associated with the festivities, the smiles on many faces are merely a façade for what's going on beneath the core.
Cathy Kelly's, Christmas Magic, is a little deceiving in that it's pink sparkly sets the reader up for a deluge of Christmas offerings while the stories are a little more diverse and not all wrapped up in tinsel and festive wrapping. Renowned for her talent in drawing relationships and exploring beneath the surface of everyday family life, Christmas Magic doesn't disappoint and brings an abundance of familiar Kelly charm.
From Dolores and Genevieve, two spinster sisters who must finally break free from their mother's powerful personality, to Alice, who is faced with the dilemma of opening her home and her heart to the one visitor that she doesn't want this Christmas, the stories in Christmas Magic will make you laugh and cry and wonder if these are people from your neighbourhood.
Presenting a mother, sister, daughter or friend with a short story collection from either or both of the authors mentioned above is a guaranteed win-win on Christmas morning…and don't forget it's okay too to present yourself with a book for the Christmas holidays! After all, what else can you buy for a mere €10 that will bring numerous hours of pleasure and escapism as well as keep you out of the biscuit tin?!
---