I was born, bred and buttered in Dublin's Fairview.  Across the road lived the legendary comedienne Maureen Potter.  She was a colourful character and wore enormous glasses. She was on the radio regularly and as children we recognised her distinct Dublinese voice immediately.  She had an imaginary friend "Christy" who was always whinging and didn't she make us laugh?  She had such a unique talent for acting the maggot, skipping and dancing along the road as if she had ants in her pants.  What happy memories!
We had a fairly long garden on Philipsburgh Avenue, but were kept within its boundary most of the time.  My parents and grandparents had a terrible fear of traffic in the early sixties.  Maureen used to work for Radio Eireann.  At the time it was situated at the side entrance of the G.P.O. in Dublin's Henry Street.  At about half past five each evening, my sister, my brother and I would run eagerly to our iron gate, climb up and position ourselves on it.  We waited each evening for Maureen Potter to round the bend at the church gates on her way home from work.  We yelled and screamed with great gusto "H-E-L-L-O Maureen" and there was no way she could possibly avoid us. "H-E-L-L-O Maureen" we screamed again with no mercy. She never once passed us by.  She always crossed over the street to chat to us.  It was like the electricity coming into our day. Maureen Potter was a busy woman with hectic schedule, she was also connected to the Gate Theatre on Parnell Square, but she always made time to chat with us.
Each year we holidayed with relations in Bundoran, Co. Donegal.  My mother sent Maureen a postcard which read "Greetings from Bundoran" and with her finest handwriting she wrote "Hello from the children at the gate." However, Maureen never acknowledged the postcard.  Time passed.  My mother waited with bated breath for a thank-you, but still never a word from Maureen.  With that, my mother chaperoned us to the gate one evening at half past five.  As usual, over the road Maureen came, thus giving my mother the opportunity to confront her, to inquire if she ever received the card from Bundoran from the children at the gate.  Maureen the comedienne looked up, her vulnerable eyes studying my mother's face, confessing apologetically that she presumed it was from the children at the Gate Theatre. My mother was gobsmacked but respected Maureen's downright honesty showing us that Maureen was equally as amusing off stage.  From then on, my mother had no qualms about keeping her breath to cool her porridge.
Violet Mackintosh also lived across the road on the corner of St. Joseph's Terrace.  She taught Irish Dancing to the youngsters of Fairview and its surrounding areas.  That was before Billy Barry came along.  Violet also ran a little school and taught Juniors the three R's (Reading, Riting, Rithmitic) so we were sent over regularly, as she hadn't many pupils.  We were always made feel welcome.  Teaching outside the school system in those days wasn't all sweetness and light, and I often wonder how on earth Violet made ends meet. It didn't take her long to discover that our family definitely weren't dancers, nevertheless, we were always assured of front seats at any of the concerts she held in her house.  She loved playing the piano and a stage was built sturdy enough to accommodate the dancers.  It was magnificent.  Violet kept everybody on her toes, so to speak.  Needless to say, Maureen Potter was the STAR CELEBRITY at each of these shows.  The neighbours rallied round, and I don't ever remember there being an empty seat at any of these concerts.  .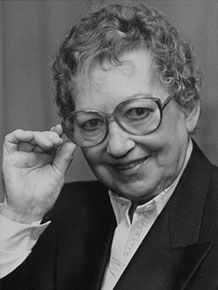 Maureen Potter (Maria Philomena Potter 1925-2004) continued to grace the stage, the radio and television.  If instinct is anything to go on, she's probably in Heaven singing and tap-dancing still, or looking down on us all.  Perhaps she's even reminiscing on the good old days in Fairview.
Ar dheis De to raibh a anam dilis!